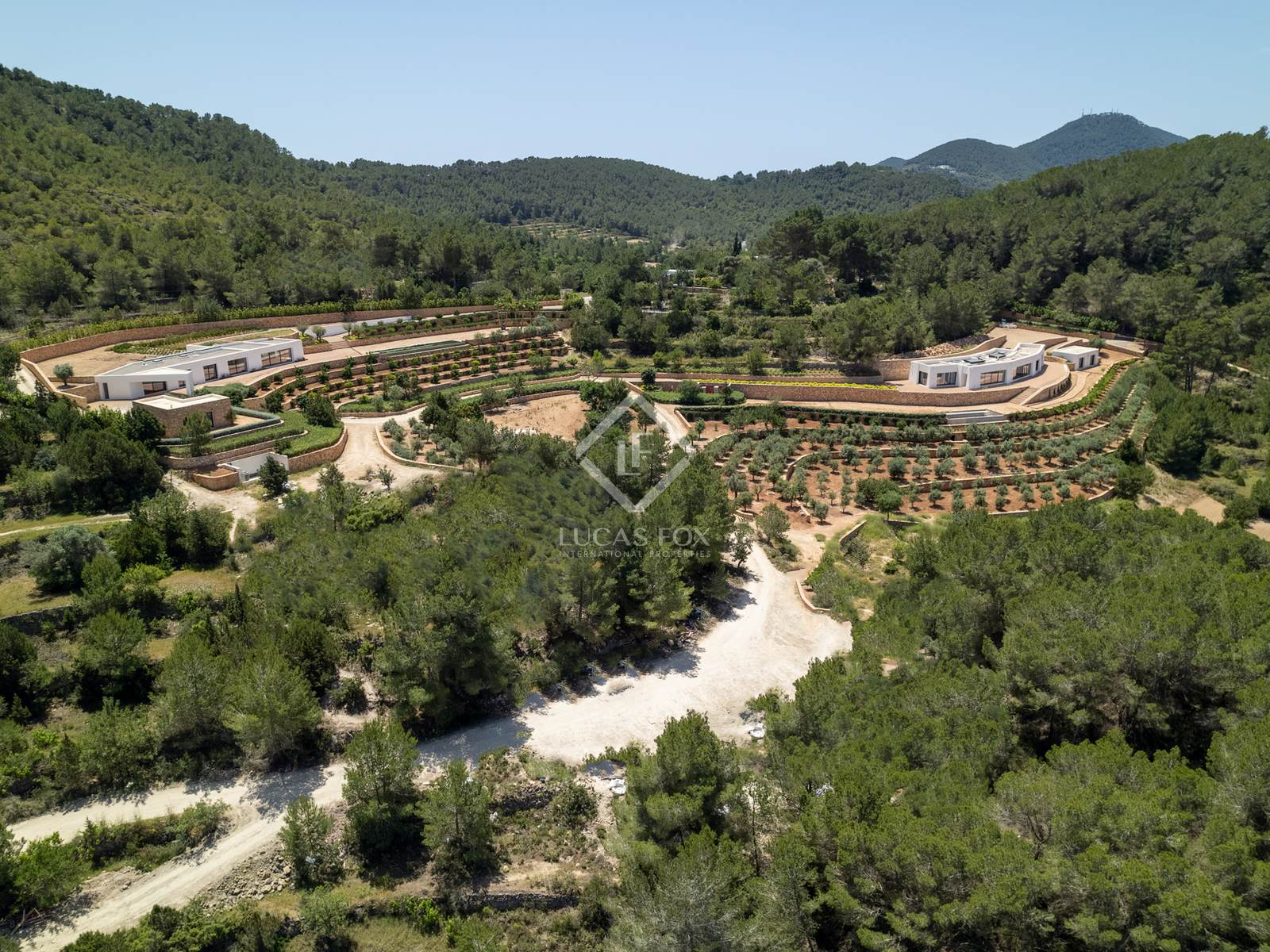 IBZ32354
Price on request
House / Villa for sale
Extraordinary three-villa estate: A paradise in the hills of Sant Agustin, Ibiza
Bedrooms

13

Bathrooms

16

Plot size

11.9ha
Extraordinary three-villa estate: A paradise in the hills of Sant Agustin, Ibiza
Important features of this house / villa
Sea views
Mountain views
Terrace
Swimming Pool
Garden
Private garage
Natural light
Underfloor heating
Views
Utility room
Storage room
Panoramic view
Outdoor kitchen
Open kitchen
New build
Interior
Fireplace
Exterior
Equipped Kitchen
Double glazing
Domotic system
Chill out area
Built-in wardrobes
Alarm
Air conditioning
Everything you need to know about this house / villa for sale
Nestled gracefully amidst the enchanting hills of Sant Agustin, along the picturesque west coast of Ibiza, lies a truly extraordinary estate comprising three distinct villas, offering an awe-inspiring total of 2,200 square metres of meticulously crafted living space. Set upon a sprawling, breathtaking plot of 119,000 square metres, this property presents an unmatched opportunity.
Each of these three houses stands as a testament to the pinnacle of architectural excellence. No detail, however minor, has been spared, and the selection of materials has been a meticulous process guided by the most discerning standards. The landscaping of this remarkable estate is a work of art in itself. It lovingly revitalises and restores the ancient farming terraces, now flourishing with a diverse array of fruit trees.
These three houses, each entirely independent, are individual marvels in their own right. Each boasts its own well-appointed kitchen, spacious living areas, and elegant dining spaces—all meticulously designed to deliver a total commitment to quality. Every residence shares the privilege of offering breathtaking vistas, allowing residents and guests to immerse themselves in the serene countryside of the island, with the stunning sea serving as a captivating backdrop.
In Ibiza's real estate landscape, this property stands out as truly unique. It represents the culmination of the vision, passion, and dedication of its designers, developers, and builders—a creation that is nothing short of exceptional
IBZ32354
House / Villa for sale
Extras
Three Distinct Villas on a Sprawling Estate
Total of 2,106 Square Metres of Living Space
Expansive Plot Spanning 119,000 Square Metres
Exquisite Architectural Excellence
Meticulously Selected Materials
Beautifully Landscaped with Fruit Trees
Independent Residences with Well-Appointed Kitchens
Spacious Living Areas and Elegant Dining Spaces
Breathtaking Countryside and Sea Views
Unique and Exceptional Property in Ibiza's Real Estate Landscape
Single-Floor Villas: All villas are thoughtfully designed on one level, allowing for seamless flow between spaces.
Open Concept Design: Upon entry, you are greeted by an open-plan kitchen, dining area, and living room, fostering a sense of interconnectedness.
Abundant Bedrooms: A total of 13 en suite bedrooms are spread across the villas, ensuring ample accommodations.
Guest Toilets: Each villa features a separate guest toilet for added convenience.
Easy Access: The villas are conveniently situated on the same level, enabling effortless movement from one to another.
Terraced Hillside: The entire hill is meticulously terraced, adding an authentic and character-rich element to the location.
Individual Garages: Each villa boasts its own garage, along with ample parking space to accommodate multiple vehicles.
Panoramic Mountains and Sea Views: Large, expansive windows grace the facades of the villas, providing sweeping views of the mesmerizing sea.
Distribution of this house / villa
Three Villas, One Floor and Basements: The estate encompasses three villas, all situated on a single floor + basement, ensuring a seamless flow of spaces and accessibility.
Open-Plan Layout: At the entrance of each villa, you will find an open-plan kitchen, dining area, and living room, creating a welcoming and communal living space.
Bedroom Configuration: The villas collectively offer 13 en suite bedrooms, providing ample accommodation options. Additionally, each villa includes a separate guest toilet for added convenience.
Easy Accessibility: The villas are conveniently located on the same level, allowing for easy navigation between them. This layout enhances the sense of togetherness while maintaining individual privacy.
Unique Hillside Platforms: The entire hillside is designed with platforms, adding an authentic and distinctive character to the location. This architectural feature enhances the visual appeal and uniqueness of the estate.
Garage and Parking: Each villa comes with its own garage and offers plenty of parking space for multiple vehicles. This ensures convenience and security for residents and guests.
Expansive Sea Views: The villas feature large, wide windows on their facades, providing captivating and uninterrupted views of the sea. These panoramic views create a breathtaking backdrop to the entire estate.
In summary, this estate in the San Augustin area comprises three villas on one floor, each thoughtfully designed with an open-plan layout, en-suite bedrooms, and separate guest facilities. The cohesive layout and unique platform-based hillside design contribute to the property's authenticity and character, while amenities such as garages and abundant parking spaces enhance practicality. Moreover, the large windows framing stunning sea views make this estate a truly exceptional and desirable property.
San José, Ibiza: Location and surroundings of this property
The San Augustin area in Ibiza, specifically the hills, is renowned for its unique blend of natural beauty, privacy, and authentic charm. Nestled in the picturesque hills on the western coast of the island, this region offers a serene and tranquil escape from the hustle and bustle of more touristy areas.
The hills of San Augustin are characterized by their lush greenery, rolling landscapes, and stunning vistas. The Mediterranean climate and abundant sunshine make the surroundings even more captivating. From these elevated vantage points, you can take in breathtaking views of the crystal-clear waters of the Mediterranean Sea and the vibrant Ibiza coastline.
Owning a property in the hills of San Augustin offers a level of privacy and seclusion that is unparalleled. The homes in this area are often set on generous plots of land, allowing for ample space between properties. This ensures that you can enjoy a peaceful and intimate atmosphere, free from the noise and crowds often found in more tourist-centric locations.
San Augustin has managed to maintain its authentic Ibiza character. The area has a more laid-back and traditional vibe compared to some of the livelier parts of the island. You'll find charming local restaurants serving delicious Mediterranean cuisine, and the warm and welcoming atmosphere of the area makes it easy to immerse yourself in the island's culture and lifestyle.
One of the most captivating features of owning a property in the San Augustin hills is the mesmerizing sea views. Whether you're enjoying a morning coffee on your terrace or watching the sunset over the horizon, the sight of the sparkling Mediterranean waters is a constant source of inspiration and tranquility.
Despite its peaceful and secluded setting, San Augustin is conveniently located just a short drive away from the essentials. You can easily reach the nearby town of San Jose, which offers grocery stores, cafés, and other amenities. Additionally, Ibiza Town is only a brief drive away, providing access to a wide range of dining, entertainment, and cultural attractions.
Properties in the San Augustin area are highly sought after, not only for their beauty and tranquility but also for their investment potential. The combination of privacy, authenticity, and sea views makes these properties attractive to those seeking both a personal retreat and a solid real estate investment.
In summary, owning a property in the hills of San Augustin, Ibiza, is a unique opportunity to experience the island's natural beauty, authentic charm, and breathtaking sea views while enjoying the tranquility and privacy that this enchanting enclave offers. It's a place where you can truly escape, unwind, and savour the best that Ibiza has to offer.
IBZ32354
Price on request
House / Villa for sale
Similar prime properties for sale in San José