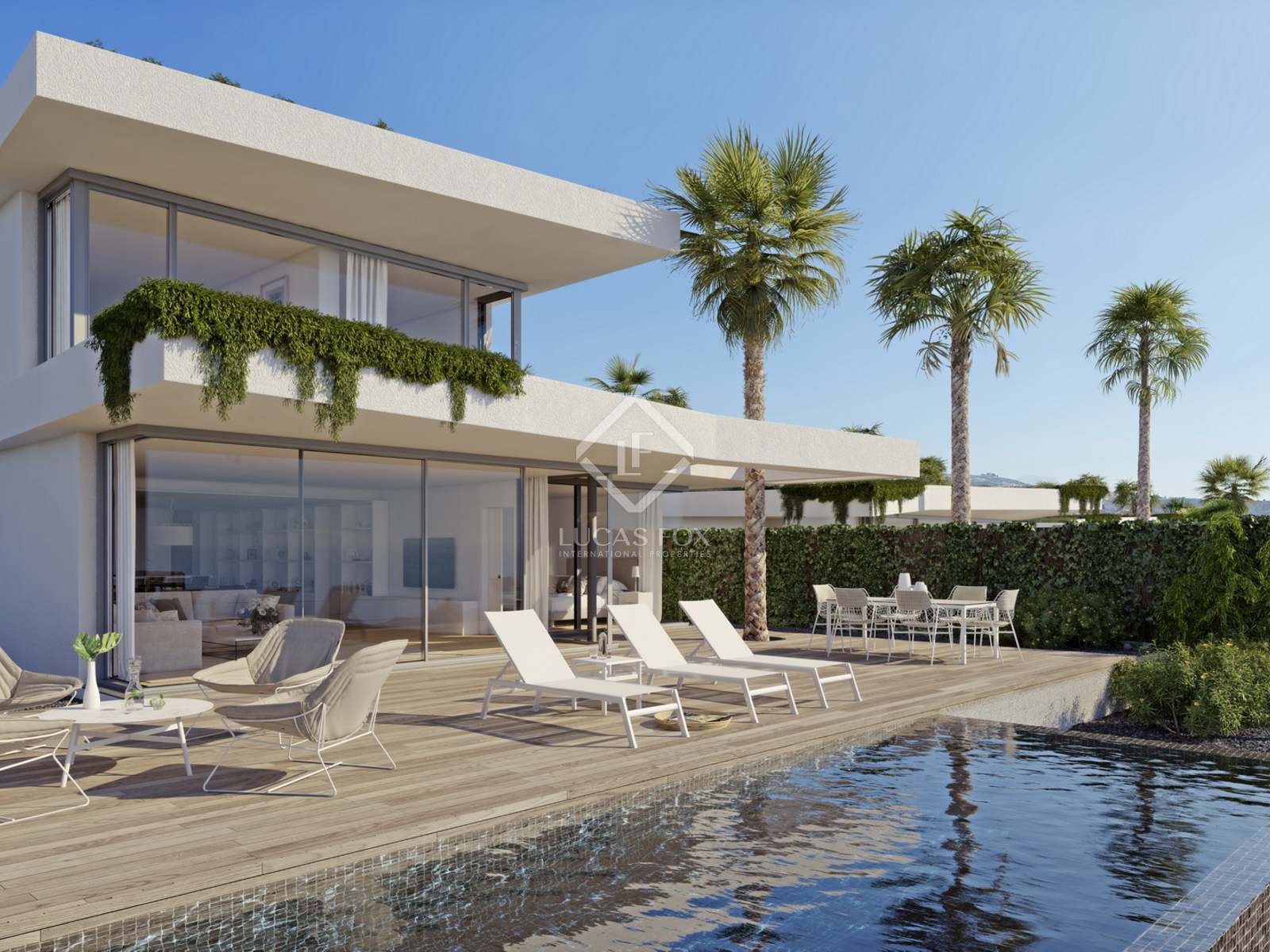 Villas-del-Tenis
Prices from €1,285,000
New development
Villas del Tenis
Units available

4

Bedrooms

2 & 3

Sizes from

184m²
Villas del Tenis
Villas del Tenis is part of an exceptional development on the beautiful island of Tenerife. Just off the coast of North Africa, the Canary Islands are known for their excellent year-round climate and stunning natural beauty.
The exceptional residential complex offers 13 restaurants and a total of 3 Michelin stars, remarkable considering that there are just 6 on the whole island. There is an excellent leisure offering with a range of shops and a spa at the residents' disposal. Furthermore, those who enjoy a game of golf can pay to use the excellent on-site golf course and facilities.
Designed by renowned architects Virgilio Gutierrez Herreros and Eustaquio Martínez García, Villas del Tenis offers 23 exclusive villas with private gardens and swimming pools. Presented fully equipped and decorated, these villas offer the sensation of staying in a luxury hotel.
Residents have access to the private club with a gym, restaurant and swimming pool to complement a relaxed and comfortable lifestyle. Each villa also has a storage area and parking space.
Owners can reside in their property for 6 months of the year, during the remainder of the year the property will be rented out to tourists; this process will be fully managed by the company 'My Way'. There is also the option to take part in an exchange programme offering the opportunity to exchange their villa for a property in another resort.
A rare opportunity in Tenerife, stunning villas in an exceptional residential complex. Completion date June 2020.
Note that prices do not include IGIC (6.5%).
Location
This exclusive residential complex is located in Tenerife, the largest of the Canary Islands. Just off the coast of North Africa, the Canary Islands offer an enviable year round climate with endless days of sun and mild temperatures. Tenerife boasts great natural beauty and dramatic coastlines, it is perfect for those wishing to spend holidays or live part of the year in a relaxed and peaceful destination.
Santa Cruz de Tenerife is the island's vibrant capital with an extensive range of shops, restaurants and services. There are 2 international airports, one of which is just 20 minutes from the development and the other 1 hour away.
Villas-del-Tenis
Prices from €1,285,000
New development
Units in this development
| Type | Status | Floor | Bedrooms | Bathrooms | Size | Terrace | Rental yield |
| --- | --- | --- | --- | --- | --- | --- | --- |
| House / Villa | €1,285,000 | Floor 0 | 2 | 2 | 184m² | 43m² | - |
| House / Villa | €1,395,000 | Floor 0 | 3 | 2 | 184m² | 43m² | - |
| House / Villa | €1,680,000 | Floor 0 | 3 | 2 | 265m² | 63m² | - |
| House / Villa | €1,815,000 | Floor 0 | 3 | 2 | 265m² | 63m² | - |
Our experienced sales agents are on hand to help you find out more about this exciting development.