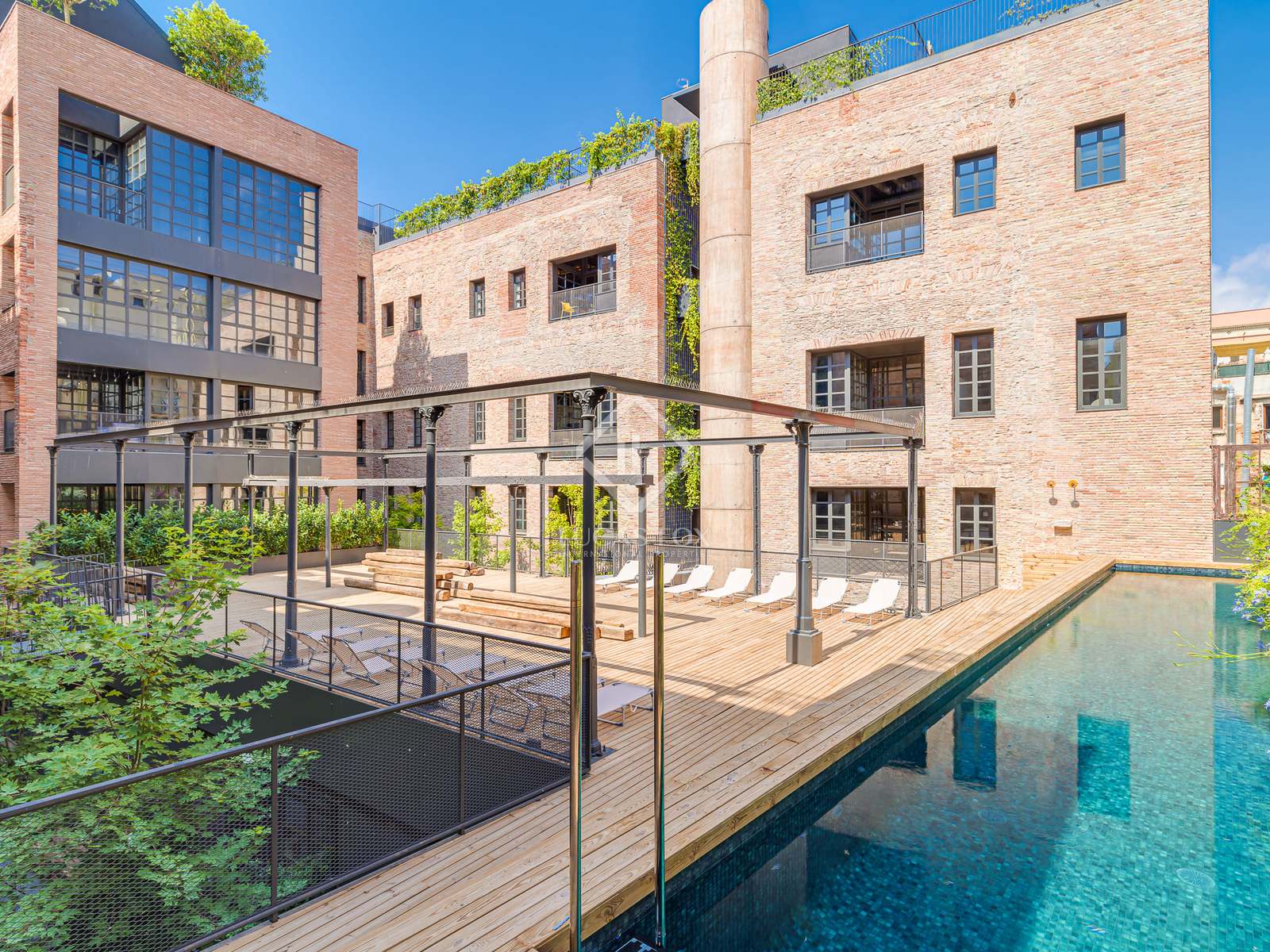 Ecoliving
Prices from €399,000
Rehabilitation
Ecoliving
Units available

10

Bedrooms

1 & 2

Sizes from

58m²
Ecoliving
Ecoliving 1802 is a new development in Barcelona that wants to offer a social, collective and ecological lifestyle in an old renovated textile factory.
The residence-textile factory that has inspired this project was built in 1802, in a place where until then some orchards had been located. Despite the robustness of the construction and its more than two centuries of history, this building has witnessed some of the toughest moments in the city, such as the bombing of Barcelona during the civil war. In fact, the factory was the target of one of the projectiles, an event that today has been commemorated with a statue on the ground floor.
Today, this factory steeped in history has been refurbished to host an architectural project whose objective is to look to a greener future and provide a peaceful, healthy, sustainable and social lifestyle in the heart of the city.
One of the strengths of this new development is its communal areas. A collective and social bond between neighbours will be promoted through common spaces and a mobile application called "Living App", to organise activities and events, share spaces and garden products, among others.
The project will have an urban vegetable garden with recovery of rainwater and a basket for self-consumption that will be managed by a specialized company, although the neighbours will be able to participate in the cultivation and collection. Ecological and sustainable-themed workshops and activities will also be organised. There will also be a social club, with the capacity to offer kitchen or television services, and in which there may be a coworking spae and scope to organise dinners, meetings, cultural or sporting events.
The rooftop of the building will offer an 18-metre pool, ideal for cooling off in complete privacy, thanks to a latticework of the old factory. This area will be surrounded by a magnificent chill-out and solarium area.
With regard to housing, the project offers a wide range of apartments that adapt to multiple needs. They are characterized by being flexible, since rooms or attics can be easily added, and their layout can be changed in the blink of an eye thanks to their mobile cabinets, modules, etc.
You can choose between apartments with views of the beautiful old quarter of Barcelona, apartments with views of the quiet common areas, low lofts with adjacent workshops or luxurious bright penthouses.
Of course, all homes enjoy the best finishes, and an attractive industrial style that never goes out of fashion.
It should be noted that the building has a concierge service, sockets for electric bicycles, and that there are parking services nearby.
Contact us for more information or to arrange a visit
Highlights
Collective and ecological architectural project
Old refurbished textile factory, with some of its elements restored
Excellent community areas, with an urban kitchen garden, swimming pool, solarium and a social club to celebrate events, practice yoga, have a coworking space
Flexible homes, with layouts that can be modified in a matter of minutes
With concierge service, video surveillance and socket for electric bikes
In the old town of Barcelona, near the sea
Location
This unique project is located in Ciutat Vella, in the heart of the old town of Barcelona, in a completely restored old textile factory.
The building is located near the sea, and enjoys good transport connections with the rest of the city thanks to the excellent public transport networks. There is also parking near the area, and you will find sockets for electric bikes in the building. In addition, you will find all the services you need for day-to-day life nearby, and you can easily access the shops and markets of the city centre.
In this neighbourhood, you can enjoy pleasant walks and the architecture of Barcelona, admiring its unique streets, sunny squares and imposing churches and cathedrals. A real privilege.
Ecoliving
Prices from €399,000
Rehabilitation
Units in this development
| Type | Price | Status | Floor | Bedrooms | Bathrooms | Size | Terrace | Floor plan |
| --- | --- | --- | --- | --- | --- | --- | --- | --- |
| Apartment | - | Sold | Floor 1 | 1 | 1 | 48m² | 4m² | - |
| Apartment | €399,000 | Available | Floor 1 | 1 | 2 | 64m² | 10m² | Floor plan |
| Apartment | - | Sold | Floor 1 | 2 | 2 | 109m² | 4m² | - |
| Apartment | €448,000 | Available | Floor 4 | 1 | 1 | 76m² | 6m² | Floor plan |
| Apartment | €557,000 | Available | Floor 4 | 1 | 1 | 65m² | 25m² | Floor plan |
| Apartment | €575,000 | Available | Floor 4 | 1 | 1 | 78m² | 29m² | Floor plan |
| Apartment | €592,000 | Available | Floor 4 | 1 | 1 | 84m² | 29m² | Floor plan |
Our experienced sales agents are on hand to help you find out more about this exciting development.