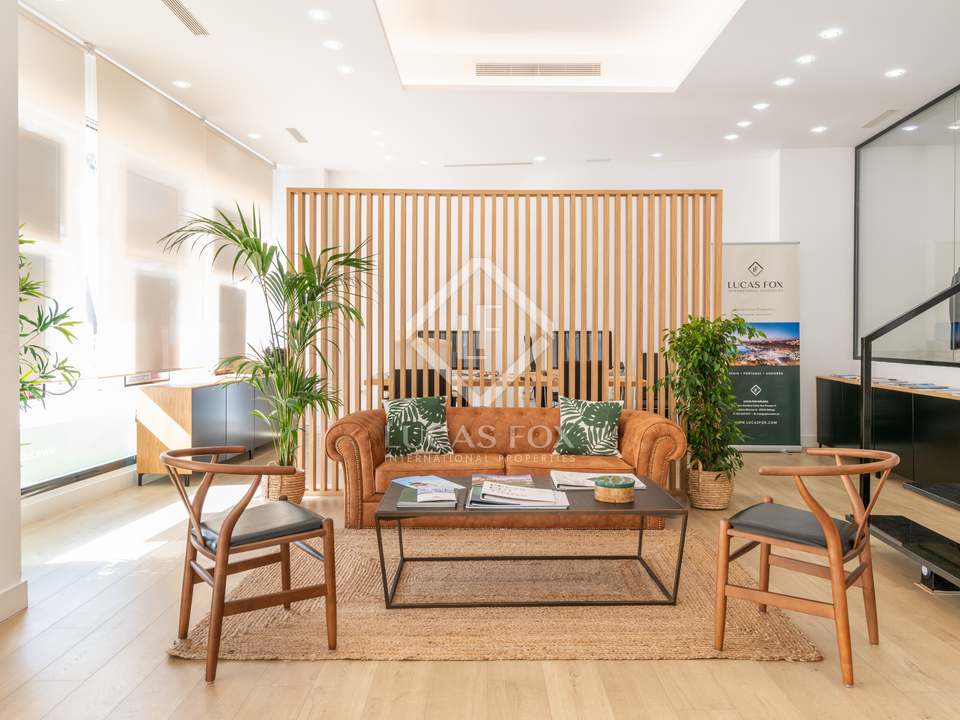 Lucas Fox Málaga
Paseo Marítimo Pablo Ruiz Picasso, 5
29016 Málaga
Spain
Lucas Fox Málaga featured properties
About Lucas Fox Málaga

Málaga, the capital of the Costa del Sol, offers more than 10 km of glorious golden beaches and wide seafront promenades. With 300 days of sunshine per year and average winter temperatures above 15º, it is the ideal place to bask in the Mediterranean sunshine. At the Lucas Fox Málaga office we specialise in property for sale in exclusive areas, catering for all types of property buyers, ranging from those looking to buy a holiday home to investors and permanent settlers seeking a more relaxed and healthier lifestyle in the sun.

The cosmopolitan nature of Málaga, with its excellent amenities such as, reputable private healthcare centres and international schools, make it a popular destination to relocate to, both for young families as well as retirees. The whole province is awash with fascinating places to visit and stunning sun-drenched landscapes, offering much to do and discover for all ages.

The pedestrian historic centre is a pleasure to stroll around and to enjoy some typical local tapas or international cuisine, browse in the many shops for all tastes and budgets and discover more than 30 museums for lovers of all things cultural. Málaga has an international airport with connections to the main European cities, 2 marinas for nautical enthusiasts, a golf course in the city and several more in the vicinity, and best of all, extremely friendly, welcoming locals. Malaga is today a modern and sophisticated city, which still has its authentic Andalusian charm and traditions but has, in recent years, been revamped and modernised.

Local buyers tend to acquire properties in Málaga for use as their primary residence, while foreign property buyers look for holiday homes, investment opportunities or even a permanent home to relocate to. The number of purchases by foreign clients has risen notably in Malaga in the last 3 years, and the city is now attracting interest from important foreign investors as well as individuals.

After the real estate crisis from 2008 to 2014, prices in Málaga began to increase by 3 – 5 % per year. The forecast is a slight price escalation in the coming years, together with a greater demand for real esate by investors and people interested in a second home in this flourishing area of Spain.

About Lucas Fox Málaga

At the Lucas Fox Màlaga office we offer real estate for sale in the most sought-after areas of Malaga Centro, Malagueta, Limonar and the rest of Málaga Este and the west coast.

Apartments with terraces are popular in historic buildings in Málaga Centro, particularly properties with investment potential to renovate and resell or rent out to tourists, with penthouses being the most coveted. Some new build or newly refurbished properties can be found in old buildings in Málaga Centro and are the perfect option for investors looking for good rental yield. Many new build apartments are found in Teatinos, home to the university, the hospital and the Palacio de Justicia.

Properties for sale in the rest of Malaga Este include brand new luxury apartments and villas with cutting-edge design feature in the hills of Limonar. And finally, there is the West Coast, with its star project of the 3 luxury residential blocks shared by Metrovacesa with other developers and the new Antonio Banderas Maritime Promenade, offering beach homes and particularly properties in new buildings, with views, terraces and communal gardens with pools, close to services and well connected by road and public transport.

We offer clients the opportunity to acquire the very best homes in the most prestigious neighbourhoods in Málaga. Our property profile is always varied and extensive, ensuring that all clients are catered for, regardless of their budget.

Our multinational team at the Málaga office can attend you in several languages, offering friendly and highly professional service at all times. Feel free to contact us today to begin your property search in Málaga.